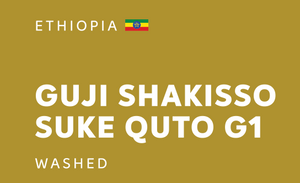 ETHIOPIA 埃塞俄比亞 | Guji Shakisso Suke Quto G1 | Washed 水洗法 (200g)
Code: ZC101R5
Regular price
$145.00
$0.00
Packing: 200g | 包裝:200克
The Guji region receives ample rainfall and is marked by steep mountainous terrain: perfect conditions to support the vast array of coffee grown here. Guji coffee has only recently been distinguished from neighboring Sidamo and Yirgacheffe. However, due to their incredible quality and unique profiles, they are quickly gaining international recognition.
Tade GG is a private farm owned by Tesfaye Bekele. He is so passionate about coffee farming that he has traveled extensively throughout Central and South America to visit coffee farms and different cultivating and processing methods.
The landscape is characterized by sharp and rugged hills, ridges, plateaus, valleys and flats creating stunningly dramatic setting. The region's volcanic soil bursts with nutrients, creating a deep red and brown topsoil. 
At the farm's washing station cherry is typically pulped with an Agared machine (a pulper that has no mucilage remover). Then, coffee is fermented in tanks and washed in clean water to remove all the mucilage. Parchment dries on raised beds where workers turn the parchment regularly to ensure even drying.
Region 產區:
Guji, Shakiso
Farm 農戶/Coop 合作社/Station 加工場:
Tade GG by Tesfaye Bekele
Suke Quto (單一莊園 Single Farm)
Varietal 品種:
JARC varieties , Local Landraces
Grade 級別:
G1 Guji Fully Washed
Processing 處理法:
Fully Washed 水洗法
Altitude 高度:
1,860 to 1,950 meters above sea level
海拔1,860 - 1950米
Roast level 烘焙度:
Light Roasts 淺烘焙 🟤⚪⚪⚪⚪
Flavor 風味:
繼之前我們最受歡迎Tade GG 蜜處理的後續款式,依然由得獎農家Tesfaye Bekele主理的Suke Quto G1,北歐式風味,清澈透亮,氣質高雅,香氣帶檸檬,入口像紅茶,有非常長的回甘,帶西柚和清甜高雅的收結,我們希望這款水洗批次能帶給您能提升到另一層次的優雅和精緻的Guji體驗。
風味: 佛手甘、檸檬、伯爵茶尾韻
This is our sequel to one of our most popular Tade GG Honey by renowned farm owner Tesfaye Bekele. On aroma, a very clean and bright lingering sensation of lemon followed by a lingering grapefruit and hints of toffee on the finish. We want to share this experience with you by bringing you the most delicate experience from Guji.
Flavor: Bergamot, Lemon, Earl Grey Tea finish.
建議手沖水溫:攝氏91-93度
Suggested Hand Drip brewing water Temperature: 91-93°C
研磨度:中
Grind Size: Medium
時間:2分至2分半鐘
Brewing Time: 2 - 2:30min
---
Share this Product
---
More from this collection