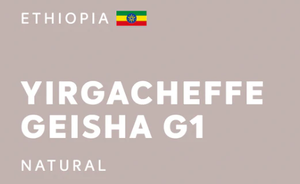 ETHIOPIA 埃塞俄比亞 | Yirgacheffe Geisha G1 Natural 日曬 (200g)
Code: ZC097R5
Regular price
$135.00
$0.00
Packing: 200g | 包裝:200克
Geisha (also known as Gesha) is known for its exceptional cup quality, especially when grown at high altitudes. The variety comes from Ethiopian landrace coffees and was collected from Ethiopian coffee forests in the 1930s. The name supposedly derives from Ethiopia's Gori Gesha forest.
There is some confusion with several genetically distinct varieties that have all been called Geisha, but the most famous variety is the Panama one. (The variety was brought to Lyamungu research station in Tanzania and from there, to Centro Agronómico Tropical de Investigación y Enseñanza (CATIE) in Central America in 1953. At CATIE, the variety was logged as T2722.)
About Yirgacheffe
Yirgacheffe is a district in Southern Ethiopia's Sidamo region. Yirgacheffe is widely recognized as one of coffee's 'birth regions.' Washed coffees coming from this district are so well-known and sought-after that Yirgacheffe is considered its own micro-region.  
The majority of coffees grown in Yirgacheffe are local landrace varieties (which are often also called Ethiopian heirloom). Other varieties grown in the regjon were developed by the Jimma Agricultural Research Centre (JARC). JARC is an important research center for Ethiopia and has done a great deal of work on developing disease resistant and high yielding varieties that still demonstrate quality in the cup. 
Most farmers in the region farm on fewer than 5 hectares (many counting their coffee farms in terms of trees rather than area). Cultivation methods are traditional for the most part, with coffee being grown as part of an integrated 'coffee garden,' intercropped with other food crops. 
Region 產區:
Yirgacheffe
Sub-region 小區:
Werkasakaro
Farm 農戶/Coop 合作社/Station 加工場:
Rudo Farm by Ayele Fulasa
Grade 級數:
Geisha Gr.1 Natural
Varietal 品種:
JARC 74110
Processing 處理法:
Natural 日曬
Altitude 高度:
2005 meters above sea level
海拔2,005米
Roast level 烘焙度:
Light Roast 淺烘焙 🟤⚪⚪⚪⚪
Flavor 風味:
杏脯,白桃香,太妃糖,青葡萄般的酸度,口感平衡綿密。

Apricot and peach aroma with nice body, hint of toffee, green grapes on mid-palate. It is well balanced, lengthy and layered finish. Can serve either hot or cold. Cool it down for a juicy finish.
建議手沖水溫:攝氏91-93度
Suggested Hand Drip brewing water Temperature: 91-93°C
研磨度:中
Grind Size: Medium
時間:2分至2分半鐘
Brewing Time: 2 - 2:30min
Freshly roasted in Hong Kong
香港新鮮烘焙
---
Share this Product
---
More from this collection