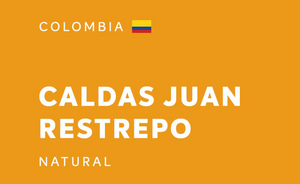 COLOMBIA Caldas Juan Restrepo Natural 哥倫比亞卡爾達斯胡安·雷斯特雷波日曬 (100g)
Code: ZC089R4
Regular price
$95.00
$0.00
Packing: 100g | 包裝:100克
Elmer & Juan Felipe Restrepo, the father and son team behind Finca Jardin & Finca Chambacu are re-envisioning coffee production in Chinchina. The rolling hills of Chinchina, Caldas, the third biggest coffee producer in Colombia after Pitalito in Huila and Planadas in Tolima, are home to bigger estates that mainly focus on high volume commercial quality production. Elmer and Juan Felipe are redefining their coffee production with a hybrid approach.
While they continue to devote a portion of farm to commercial production, they have been increasingly developing their specialty offerings and experimenting with new and varied processing styles.
Juan Felipe has taken the helm of the specialty aspect of the operation. He has been a passionate experimenter, developing countless processing protocols to enable him to bring out the best in the coffees from their 4 specialty plots – El Placer, Jardin 1, Jardin 2 and Chambacu.
Region 產區:
Caldas, Colombia

Sub-region 小區:
Chinchina

Farm 農戶/Coop 合作社/Station 加工場:
Finca Jardin & Finca Chambacu
Varietal 品種:
Castillo, Caturra
Processing 處理法:
Natural 日曬
Altitude 高度:
1,410 to 1,490 meters above sea level
海拔1,410至1,490米
Roast level 烘焙度:
Light Roasts 淺烘焙 🟤⚪⚪⚪⚪
Flavor 風味:
我們嘗到藍莓紅果般香氣與甜橙美妙的平衡,加上朱古力的收結。非常適合喜歡濃郁果味的咖啡迷。
We taste a lovely balance between intense blueberries, red fruits and sweet orange citrus with lovely milk chocolate finish. This would be a great option for coffee hobbyist interested in rich and fruitier coffee.


Freshly roasted in Hong Kong
香港新鮮烘焙
---
Share this Product
---
More from this collection