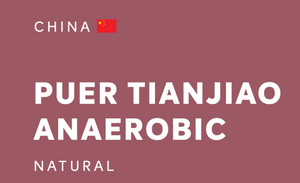 China 中國 | Yunnan 雲南 Puer 普洱市 | Tianjiao | Anaerobic Natural 厭氧日曬 (100g)
Code: ZC107R4
Regular price
$13.00
$0.00
Packing: 100g

 

(Whole Beans) 

| 包裝:100克 

(原豆)
Roast level 烘焙度:
Medium Light Roast 中淺烘焙 🟤🟤⚪⚪⚪
Flavor 風味:
為展現雲南卡蒂姆果香特色,主理人伍麗沙研發時厭氧發酵了過百次的實驗才得到的成果,這款天驕普洱卡蒂姆表現了極出色的果香,包括黑加倫子,熱帶水果,布林等,不但口感圓潤,更有甜美的回甘。
Region 產區:
Yunnan, Siamao, NanBanghe, 雲南普洱市思茅區
Farm 農戶/Coop 合作社/Station 加工場:
Tianjiao & NanBanghe farms by Lisha

Varietal 品種:
Catimor
Grade:
Scr. 14+
Processing 處理法:
Anaerobic Natural 厭氧日曬
Altitude 高度:
1,400+ meters above sea level
海拔1,400米
Brewing Suggestions:
Method: Hand Drip
Grind Size: Medium
Suggested Ratio: 1:16
Brewing water Temperature: 91-93°C
Brewing Time: 2 - 2:30min
沖煮建議:
方法:手沖
研磨度:中
水粉比:1:16
建議手沖水溫:攝氏91-93度
時間:2分至2分半鐘

Second-generation coffee producer, Lisha, has honed the anaerobic process over hundreds of experiments. In this lot, extended anaerobic fermentation brings out a host of fruity notes, including black currant, tropical fruit and plum with a rounded, molasses sweetness. 
Lisha's father began growing coffee on Tianjiao farm in 1997, when coffee production in Yunnan was just beginning. In 1999, severe frost destroyed his budding coffee farm. While that frost nearly ended his coffee growing career, he understood that coffee growing was a long term business and decided to rebuild his farm after the frost. And he's flourished since.
Following the increase in coffee prices in 2005, Lisha's father invested in another farm, NanBanghe farm. At the time, Lisha was attending university in Holland. After graduating, she came back to Yunnan to work alongside her father. She brought with her a focus on specialty coffee and an interest in supporting community development through coffee production.
Today, Lisha is a certified Q grader and has taken roasting, sensory evaluation and brewing courses. She has conducted hundreds of trials with cherry on their farms and has honed an Anaerobic Natural process to create a truly spectacular coffee.
Cherry is selectively handpicked and processed on the farm. Ripe, red cherry is placed in a sealed container and fermented anaerobically for 15 days. This extended fermentation process brings out the fruit and citrus notes in this coffee.
Following fermentation, cherry is laid on raised drying beds to sundry. Cherry is raked frequently to ensure even drying. Dry cherry is bagged and rested in a warehouse at the dry mill for 1 to 3 months before being prepared for export.
Freshly roasted in Hong Kong
香港新鮮烘焙
---
Share this Product
---
More from this collection