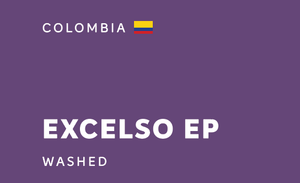 (經典重温) COLOMBIA Excelso EP Washed 哥倫比亞極品咖啡豆 (200g)
Code:
Regular price
$16.00
$0.00
Packing: 200g

 

(Whole Beans) 

| 包裝:200克 

(原豆)
Roast level 烘焙度:
Dark Roast (深烘焙)  🟤🟤🟤🟤🟤
風味:純可可,口感濃郁紮實,具有深度風味感覺,傳統風格。
Flavor: Cocoa, rich and great depth, lengthy finish. An all time classic! Also suitable for an energy boosting morning French Press.
Region 產區:
Various
Varietal 品種:
Bourbon, Castillo, Caturra, Colombia, Typica
Processing 處理法:
Washed 水洗
Altitude 高度:
1,300 to 1,700 meters above sea level
海拔1,300至1,700米
Grade 級別:
EP (European Preparation)
Excelso is marketed as the only coffee in the world that is supplied in steady volume throughout the year. Even better, in the cup it displays a reliably distinctive combination of body and acidity.
Brewing Method: Filter, Espresso, Moka Pot, French Press, Turkish Coffee (Cezve) etc.
沖煮方法:適合手沖,意式咖啡機,摩卡壺,法式濾壓,土耳其咖啡等。
建議沖法(中深焙,一人份,手沖):
用15克豆
研磨到大概2號砂糖般的粗幼
喜歡濃郁的話,水溫攝氏90度,注入大概180ml的水(比例1:12),分數次注水,大概2分鐘左右完成萃取。若太濃,可熱水另上,濃度可再自行加水慢慢調整至理想濃度。
一刀流注水 (深焙)
此方法適合用V60濾杯,想有濃厚度,水溫稍高90度,但減低苦味方法,因大部分只往中心點注水。
粉量13g,中研磨,水溫90度,先旋轉注水50ml弄濕咖啡粉,悶蒸30秒,往中心點垂直(水柱畢直)不停水地注水,同時慢慢上升水壺,直到合共100ml,再垂直慢慢下降直至150ml,其間不能斷水,150ml後再在中心作五元硬幣大小般範圍慢慢旋轉注水,直至到250ml,時間是大概2:30完成。
Hand drip suggestions per serving:
Use 15 grams of coffee beans and extract around 180ml-200ml of water.
Pour in circular motion to wet the coffee ground first, and then wait for 30 seconds to let it bloom. After that, keep pouring in circular motion with moderate and gentle pace until reaching the desire amount of coffee, finish extraction at approximately 2 minute 20 seconds. Enjoy!
Freshly roasted in Hong Kong
香港新鮮烘焙
---
Share this Product
---
More from this collection